Black Football Player Stands Up To NFL – The 'Anti-Kaepernick' Sets Them Straight, Refuses To Kneel For The Flag
What's Happening:
The NFL is continuing its slide into "wokeness." For years they've let players anger fans with Anthem protests.
And after this year's widespread politically-driven riots, it seems the league is becoming even more left-wing.
Not only will the league allow kneeling, but they are also playing the "Black national anthem," "Lift Ev'ry Voice and Sing" before the real Anthem.
Players are even allowed to wear emblems honoring victims of police violence (though emblems to honor police were not allowed).
One brave player is standing up to the "woke" NFL, and he may be the new anti-Kaepernick:
Pittsburgh Steelers defensive end Stephon Tuitt said on Monday that he will not kneel during the national anthem this upcoming NFL season.
And he explained exactly why on Twitter: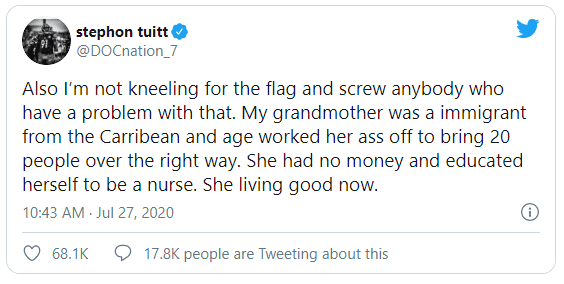 Why It's Important:
Pittsburgh's Stephon Tuitt says he will stand for the Flag and National Anthem.
He criticized those who would "have a problem" with his patriotic act. He told a story about how his grandmother emigrated to America, working "her ass off" to do it "the right way."
It appears Tuitt is proud of the country and his family and is willing to defy pressure from the woke, leftist mob.
And good luck to the people who try to argue with him or his grandmother.
But even with men like this standing up for the country (a minority in the professional sports it seems), will it be enough to save the NFL?
For the last few years, the league has allowed players to kneel. Fans from coast to coast have expressed outrage over these stunts.
Many social media posts and videos show fans calling out their teams, even destroying their hats and jerseys.
As a result, ratings (and stadium attendance) has been plummeting, year over year.
Also, worth noting is the harm extended COVID lockdowns have done to other professional sports leagues.
Other leagues have suffered huge financial losses, thanks to states mandating an end to large gatherings.
Those restrictions will hurt the NFL, too. So, at a time when the league needs to bring in every last fan possible (to stave off losses), they are deliberately insulting millions of patriotic Americans.
Doesn't sound like a winning strategy to us.
Will you be tuning in to NFL games this fall?
Key Takeaways:
Steeler's Stephon Tuitt promised to stand during the National Anthem.
He challenged anyone that would be upset by his act of patriotism.
The NFL has suffered a drop in support after allowing Anthem protests.