Biden's Eye-Opening "Cheat Sheet" Caught on Camera – It Shows He Knew the Reporter's Questions Ahead of Time
Ever since President Joe Biden stepped into the Oval Office, critics have expressed concern over his mental capacity. And as the public gaffes and mistakes mounted, those concerns increased.
Many point toward the fact that he's had stunningly few interviews and public appearances, and that he apparently needs a lot of help with each appearance.
That help reportedly comes in the form of "cheat sheets" — and POTUS was caught yet again.
During a joint press conference with South Korean President Yoon Suk Yeol, Biden seemed ready to accept questions from the assembled group of reporters.
However, it soon became obvious that the American leader was holding something in his hand, and cameras zeroed in on it: it was a card that showed he knew in advance what one reporter was going to ask.
Via The Daily Wire:
A cheat sheet that President Joe Biden used to call on reporters during a joint press conference with South Korean President Yoon Suk Yeol on Wednesday showed that he knew in advance the topics that the reporter was going to ask him about.

The notecard held by Biden, 80, stated that his first question was to come from Los Angeles Times reporter Courtney Subramanian.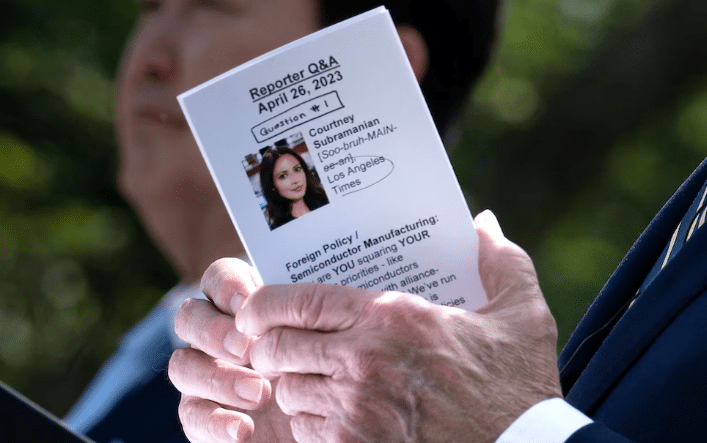 The question on the card from L.A. Times reporter Courtney Subramanian reads:
"How are YOU squaring YOUR domestic priorities — like reshoring semiconductors manufacturing — with alliance-based foreign policy?"
Now, the question Subramanian ultimately asked wasn't worded exactly the same way, but it was certainly on the same topic (Biden balancing domestic responsibilities with overseas manufacturing).
This is hardly the first time POTUS has been caught with a cheat sheet during press events.
Last year, cameras caught a cheat card that Biden used to help him answer a "tough Putin" question. In that case, the card was shown to hold the following words:
If you weren't advocating for regime change, what did you mean? Can you clarify?

I was expressing the moral outrage I felt towards the actions of this man.
I was not articulating a change in policy.
It would appear that not only is the President getting clear hints as to what reporters will ask, but he's also being told how to frame his replies.
Many contend that Biden wouldn't be capable of holding his own during any long public appearance with assistance from cards, a teleprompter, or aides that seem to flank him at all times.
Recently, former White House physician Ronny Jackson demanded that Biden take a mental fitness test. If he still refuses, he should drop out of the 2024 race.
Biden's re-election campaign officially kicked off this week, despite falling support according to recent polls.
The President appears to be falling even in the eyes of his own party, as some surveys indicate a hefty portion of voting Democrats would prefer another candidate. And age is likely a significant factor.
Key Takeaways:
President Joe Biden was caught with another cheat sheet during a recent press conference.
Cameras caught a card in his hand, which clearly showed the question one reporter was going to ask (or at least the topic she was going to broach).
This isn't the first time Biden has used these cheat sheets, and some critics – like former White House physician Ronny Jackson – say it's a bad sign.
Source: The Daily Wire