Biden Gets Wiped Out In Betting Markets – After Leading By 24 Points, In Just Weeks He Dropped By 22
What's Happening:
Over the course of early Summer, Joe Biden took a big lead in the presidential polls—and even in the betting markets.
Around the same time, riots broke out in major cities across America.
Democrats appeared to believe they had the election in the bag—even as they ignored the rioting and looting.
It seems like they planned to keep Biden in his basement until Election Day.
Now, Biden is planning to actually campaign—traveling to swing states he apparently already won.
Maybe this massive swing in the betting markets is making him worried: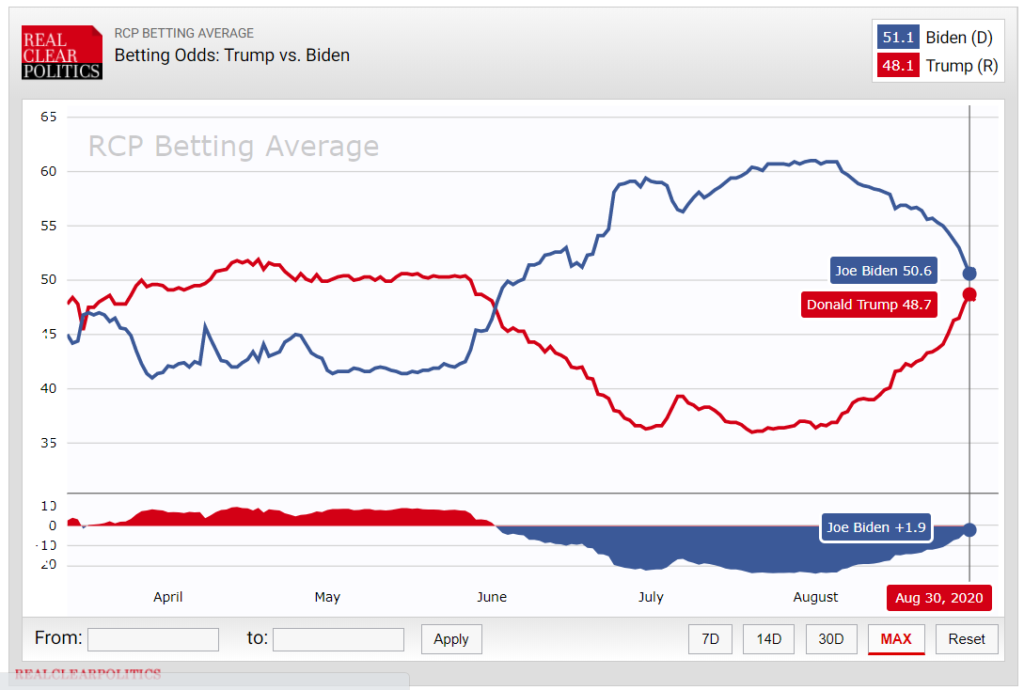 It appears betting markets have Joe Biden's 24-point lead dropping in a matter of weeks. He's now essentially tied with Trump, with only two points between them.
That seems to mirror what we're seeing in recent polls. Some speculate that major outlets have refused to release post-DNC polls because they are even worse than the ones we have seen.
From all appearances, Joe Biden's "lead" from earlier in the year has all but vanished.
You can speculate why Biden had any lead to begin with. Were voters just upset about the lockdowns? Did they blame Trump?
Or was it more likely that voters had yet to see what Biden was really made of?
In recent months, Biden has appeared more and more. Democrats, all the while, got more and more nervous.
Some have said he should be fewer interviews and appearances. Others say he shouldn't even debate Trump.
But it looks like major turning points for Biden was his running mate pick and the DNC.
Both should have given him a major boost. Instead, he appears to be rapidly losing favor among voters.
Remember, Hillary Clinton had a firm lead going into November 2016 and lost to Trump.
Today, just a few months from the election, Biden barely has a lead in the betting markets and MSM polls.
Biden and his campaign have recently scrambled. They rushed out a statement to finally condemn the riots, only to blame them on Trump (good luck with that, Joe).
And it seems now they have no choice but to get Joe out there. It could be a big disaster.
Imagine what it will look like after he debates the president?
Key Takeaways:
Betting markets have nearly erased Biden's lead, with only two points between candidates.
This comes after Biden's running mate pick and DNC appearances.
Biden's campaign has been forced to end his "basement strategy" with appearances coming up.
Source: Real Clear Politics