Biden's Ukraine Photo Surfaces – Joe's Impeachment Closet Just Swung Wide Open
Joe's going to pull his hair out over this leaked photo!
From the moment the Ukraine scandal arose, Joe Biden has denied any wrongdoing.
The media believed him, even though he was responsible for U.S.-Ukraine relations, just as his son was making $50,000 a month from a Ukrainian company.
In fact, he even bragged about getting a Ukrainian prosecutor fired, one who was investigating Hunter's company. Biden threatened to withhold U.S. aid in order to pressure the country to do so.
All this leads to some serious conflict of interest… or worse. But our media just covered it up, same as they do every time.
Biden even said he never talked about Hunter's job with his son. But now, a photo has emerged that blows that right out of the water.
From Fox News:
A photo obtained by Fox News' "Tucker Carlson Tonight" shows former Vice President Joe Biden and his son Hunter golfing in the Hamptons with Devon Archer, who served on the board of the Ukrainian natural gas company Burisma Holdings with Hunter…

A source close to Archer told Fox News the photo was taken in August 2014…

Hunter Biden and Archer joined the Burisma Holdings board in April 2014.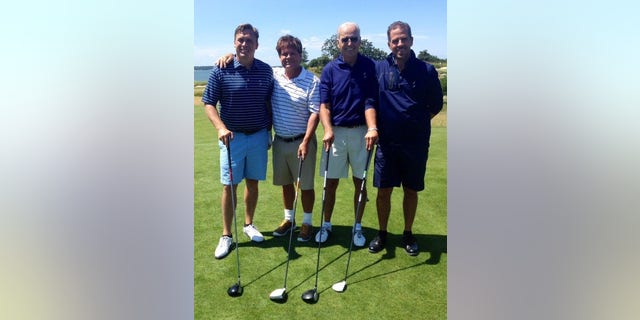 Wow. Tucker Carlson revealed a photo from 2014 featuring Joe Biden and his son Hunter on the right, and Devon Archer on the far left—a board member of the Ukrainian company.
Hmm… this raises more than a few questions, huh?
Biden wants us to believe he never, ever discussed his son's work. Kind of seems impossible, when he went golfing with his son and his co-worker.
In the Hamptons, no less. When is the last time you went golfing in the Hamptons with your international business partner?
What father doesn't talk to his son about his job? Especially the Vice President of the United States?
But we are to believe Joe never discussed Hunter's work with Ukraine, even though he spent time with a board member?
Something stinks to high heaven, doesn't it?
Just think about it. The Democrats want to impeach Trump for having a simple conversation with Ukraine. Yet they ignore just how chummy Biden got with this Ukrainian company.
We're supposed to just ignore that?
President Trump has called for an investigation into Biden's dealings with Ukraine. He wants to know if there was something going on behind Biden's demands.
Why shouldn't there be? Democrats want to investigate every piece of Trump's life.
There are clear signs Biden got a man fired to protect his son. We demand answers.
SHARE if you want Joe and Hunter Biden investigated!
Source: Fox News