Trump Recommends Firing Leader To Biden – Donald Tells Joe He Should Boot The Joint Chiefs Of Staff
What's Happening:
We've seen, time and again, that the people Biden picked to lead the country are terrible.
But this might be a new low.
The military is led by a group of uniformed officers called the Joint Chiefs of Staff. This group of seasoned warriors is responsible for defending our country from global threats.
And when Biden claimed they told him global warming is our greatest security threat, they refused to disagree with their commander-in-chief.
Wow. Big swing and a miss boys.
What kind of people did Joe pick to lead our military? Safe to say, Trump was not pleased. So, he's giving Joe some very valuable advice.
From Twitter:
Trump blasts Joint Chiefs of Staff in new statement after Biden claims they told him "climate change" is the biggest threat to America: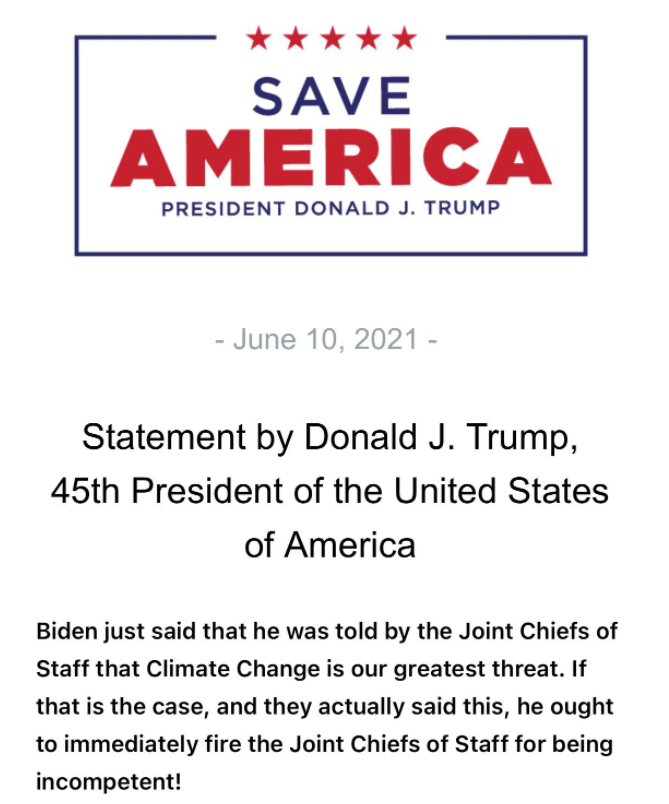 "If that is the case, and they actually said this, he ought to immediately fire the Joint Chiefs of Staff for being incompetent!"
Donald Trump slammed the Joint Chiefs of Staff for allegedly agreeing with Joe Biden that our greatest threat is "climate change."
Trump called on Biden to fire these people immediately.
Now, we can argue all day about climate change. Some are deathly afraid of it, others don't even think it's real.
But we can all agree that it is not the priority of our Armed Forces. Not even a little bit.
I doubt climate change will be much of a worry, when Iran starts firing missiles from Venezuela. Or if Russia decides to invade more countries in Europe.
We do have to wonder, who is running our military these days? Obviously Biden is their commander, but if he can't even state their objectives correctly, why would they agree with him?
And should these guys stay?
Because granola-crunching hippies who are worried more about climate change than China and Russia don't cut it.
Key Takeaways:
Joe Biden claimed the Joint Chiefs of Staff said climate change was our biggest threat, and they confirmed it.
Donald Trump slammed the JCOS, calling on Biden to fire them.
The JCOS are responsible for leading the United States military, not fix climate change.
Source: Twitter