Biden Staffer's Tweet Will Make Your Blood Boil – Out Of Touch Elite Says He Prefers 'Higher Gas Prices"
What's Happening:
As gas prices climbed during the start of the year, Biden and his staff seemed largely unconcerned.
Joe and his team blamed Putin—and did nothing to lower them. Now, one of his top staffers is proud that gas prices are so high.
And doesn't care how much it hurts you.
Form Conservative Brief:
A senior staffer at the Department of State appears to have proven once again that the Washingtonian elite lives in a bubble that completely separates them from average Americans now struggling under Biden-era energy inflation.

"I prefer high gas prices = less driving, less CO2," Senior State Department Foreign Service Officer Alan Eyre said in a tweet on Friday that has since been deleted, Fox News reported.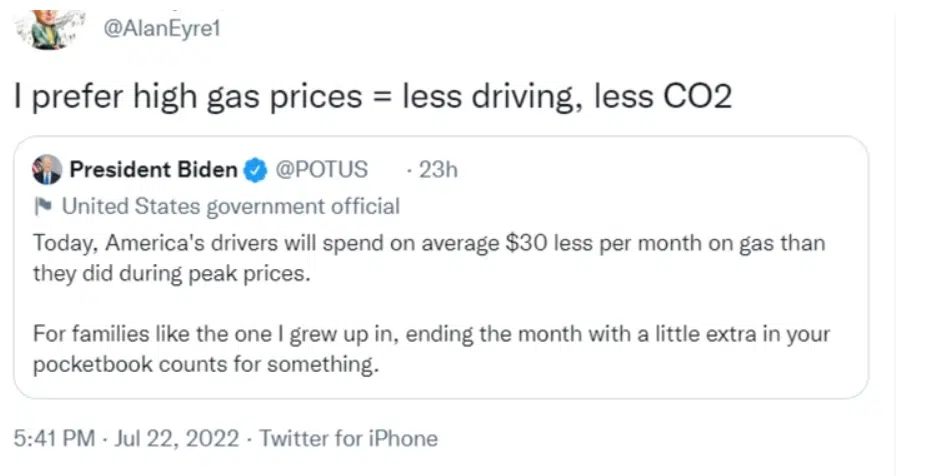 One of Biden's flunkies, State Department Foreign Service Officer Alan Eyre, claimed he "prefers" high gas prices.
Because to this elite, Washington insider, higher gas prices means less driving and "less CO2." We assume he means less CO2 being released into the air.
Hmm… must be nice to not have to worry about driving less, eh Alan?
Maybe he can afford a Tesla. Or maybe, because he lives in a major city, he can enjoy public transportation.
Or maybe he gets to work remotely are rarely gets behind the wheel.
But that's not the case for the vast majority of working Americans in the country.
Many Americans have to drive to earn an income. Whether they are a blue-collar worker, or an Uber driver, or just a mom dropping the kids off—they have to drive their cars.
And for every penny of higher gas prices they pay, it means they will struggle paying bills, making ends meet, or even putting food on the table.
You don't think. Period.
Be kind? Perhaps be kind to the billions of people left high and dry in this situation you praise. Saying a famine is a good way to start a diet is not kind.

— Ron Bassilian (@Ron4California) July 23, 2022
High gas prices have put a strain on most Americans. It has resulted in tighter budgets and less spending.
Which will, soon enough, hurt businesses that depend on Americans spending regularly. Guess what happens then?
Yup, a recession.
Biden and Eyre can ignore it all they want. But it's coming. And guess who America will blame?
Key Takeaways:
A State Department official celebrated high gas prices, because of "less CO2."
The Washington insider deleted the tweet soon after posting it.
Biden's gas price crisis has hurt working Americans across the country.
Source: Conservative Brief