Joe Biden May Be Sinking Fast In The Swamp – His Approval Rating Just Shot Far Below Trump's
What's Happening:
You gotta hand it to old Joe. We never thought he'd fail so fast!
It's only been a little more than a month of the Biden administration, and people are already outraged.
He's ticked off labor unions with his job-killing orders. His promises of "unity" and bringing the country together evaporated in a flurry of radical executive decisions.
His "recovery" plan would put the country in trillions of dollars of debt. He isn't even trying to bring both parties together. And on top of that, his cabinet picks are so bad, even Democrats hate them.
Not a big surprise to see this poll number today.
From Rasmussen Reports:
The Rasmussen Reports daily Presidential Tracking Poll, Sponsored by SLANTED from Sharyl Attkisson, for Wednesday shows that 49% of Likely U.S. Voters approve of President Biden's job performance. Forty-nine percent (49%) disapprove.
According to Rasmussen's daily tracking, Joe Biden's approval continues to sink. It is now under fifty percent, at 49%.
That includes more voters strongly disapproving him than strongly approving him, with an index rating of -9. That has dropped by 3 points since yesterday.
Around the same time in his presidency, Trump had an approval of 53%, meaning Joe Biden is doing terribly.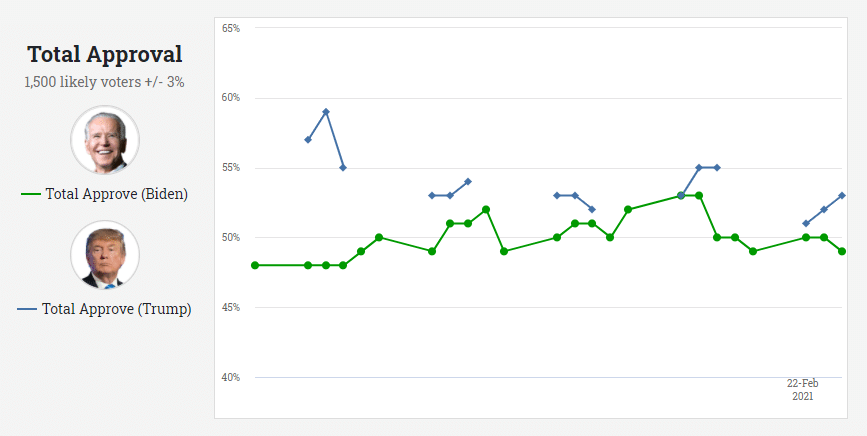 As we often say, Trump was often "above water" in approval, despite heavy negative media coverage (93% negative). Had they been at least neutral, his numbers would have been even better.
But Joe Biden is trailing Trump, even with pathetically safe media coverage. The MSM is handling Biden with the same kid cloves as Obama–perhaps more so.
The media is largely ignoring the failures of Biden's early days in office. They are doing their best to spin his leadership in a positive way.
Even with that, his approval has been sinking. Imagine what it would be, if they were even a shred honest.
We had predicted Biden's approval would sink rapidly over the coming weeks and months. But even we are surprised to see it drop so quickly.
Unless he can perform a miracle, his approval might get even worse before the season is out.
Key Takeaways:
Joe Biden's approval continues to sink after one month in office.
According to Rasmussen, it stands at 49% with a -9 index rating.
Donald Trump has a 53% approval at the same time in his presidency.
Source: Rasmussen Reports