After Biden Crushes Sanders In Landslide – Trump And Democrats Call On Bernie To Drop Out
The results are in and, despite coronavirus fears, three states went to the polls. Looks like Bernie Sanders did not have a good night.
Joe Biden took the win in Florida, Illinois, and Arizona. With those delegates in hand, Biden is very much ahead of Bernie.
But at the time of this writing, Sanders refuses to throw in the towel.
Some say he will stick it out all the way to the convention.
But even Democrats are piling on Sanders to give up.
From American Lookout:
Joe Biden swept another round of delegate-rich contests Tuesday – winning in Florida, Illinois and Arizona – further cementing the former vice president as the dominant front-runner in the race for the Democratic presidential nomination…

As a result of this, the hashtag #DropOutBernie started trending on Tuesday night.
Check out a couple of the best: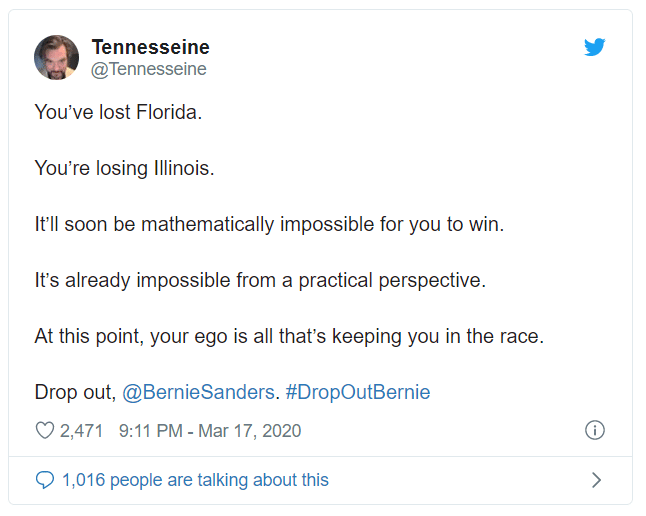 Ouch. And this: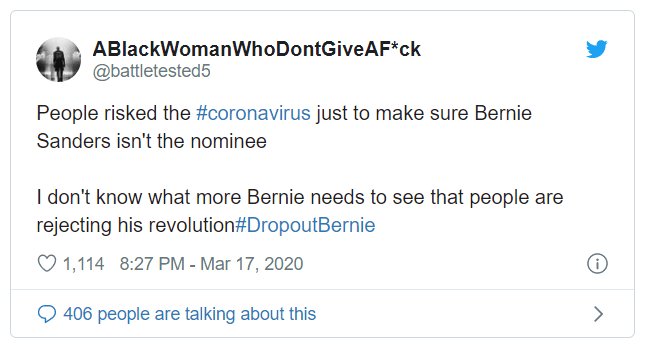 That one's gotta hurt! Democrats probably should have canceled the primaries for now, but people braved it to shut down Bernie.
Democrats took to Twitter to scold Sanders for not calling it quits right here and now. It won't be long before there just won't be enough delegates to go around.
Some are saying Sanders should cobble what's left of his dignity and bow out gracefully.
And if Sanders drags this out some more, the Bernie Bros might revolt by the time the dust settles.
And even Trump chimed in, seeing the writing on the wall.
From Twitter: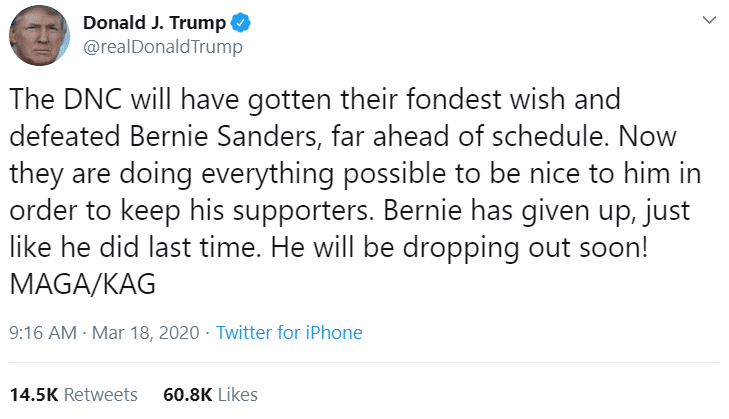 The DNC will have gotten their fondest wish and defeated Bernie Sanders, far ahead of schedule. Now they are doing everything possible to be nice to him in order to keep his supporters. Bernie has given up, just like he did last time. He will be dropping out soon! MAGA/KAG
Trump called out the DNC for trying to "be nice" to Sanders, now that they sabotaged his campaign.
The party did everything they could to derail Sanders' momentum. But now that Biden all but has the nomination, they need to play nice.
Trump predicts Sanders will drop out soon, say he's "given up."
But the question is, will his followers be eager to jump on board Biden's campaign?
This looks like a repeat of 2016. Many of Sanders' people felt he was robbed back then. And it's happening again?
Something tells me the Democrats are going to have a hard time winning this group over.
SHARE to tell socialist Bernie he's done… forever.
Source: American Lookout, Twitter