Days After Joe Biden's National Convention – A Big Convention Bump Goes Not To Biden, But To Trump
What's Happening:
Usually, a presidential candidate gets a polling bump after their week-long convention.
That should have been the case this time around, too.
Joe Biden put on the first virtual Democratic National Convention. The media praised it up and down.
But even some Democrats thought it rang hollow, almost like a commercial.
The logical question, then, is what did the American people think? This:
The Rasmussen Reports daily Presidential Tracking Poll sponsored by Liberty Nation for Monday shows that 51% of Likely U.S. Voters approve of President Trump's job performance. Forty-seven percent (47%) disapprove.

Joe Biden didn't get a poll boost from the Democratic National Convention, and the odds in favor of a Biden victory failed to improve in the betting markets following his pick of Kamala Harris as his Vice Presidential candidate.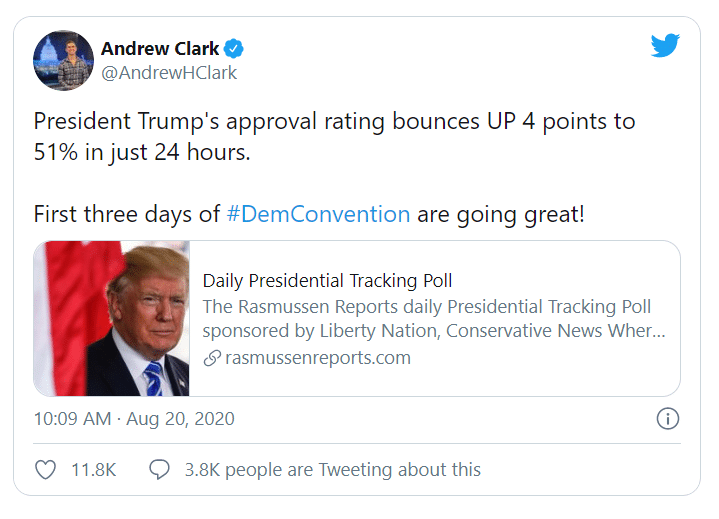 After a week of endless programming from the DNC (with ample praise from the media and liberal celebrities), Joe Biden's polling hasn't risen one point.
There was no "bump" to speak of. In fact, two big events—the DNC and the picking of Kamala Harris—appeared to do nothing to improve Biden's election chances.
In contrast, Trump's approval has actually risen during and after the DNC. In fact, according to Rasmussen, Trump has enjoyed a 51% approval for three days straight.
This week, the Republican party will be holding its much-awaited convention. How likely is it that Trump will enjoy an actual bump?
(Especially since he's poised to appear on every night of the event.)
Although the polls say Biden is leading, Democrats saw no boost from their convention. This, despite the big names that appeared.
You might remember that Mitt Romney saw no bump after the RNC convention of 2012—and he lost badly to Obama.
Add to that the fact that Democrats have suffered a massive PR disgrace, as riots continue to sweep over blue states.
Joe Biden himself cannot get away from scandal after scandal, nor the worries he's losing his mental capacity.
Then there are all the insulting remarks he's made about black Americans.
It seems that all the momentum in this race is on Trump's side.
Key Takeaways:
After the DNC, Joe Biden saw no bump in polling.
Instead, Donald Trump has seen his approval rise over the same period of time.
Trump had a 51% approval for three days straight.
Source: Rasmussen, The National Pulse, Twitter