After Biden Accuses Amazon Of Tax Evasion, Amazon Makes Him Regret It
BIG Mistake, Joe…
If Joe Biden was smart, he'd counter the radical, socialist candidates in his party and appear pro-business.
Instead, he's jumping aboard the Sander's "I hate business" train and went after the biggest retailer in the world.
He complained Amazon—the place where you get most of your stuff cheaply—is guilty of not paying enough taxes. Biden even demanded the top company on the planet should be paying more, much more.
The problem? Amazon is paying their taxes. And they just called out the former VP for his inaccurate statement—all for the world to see.
From Twitter: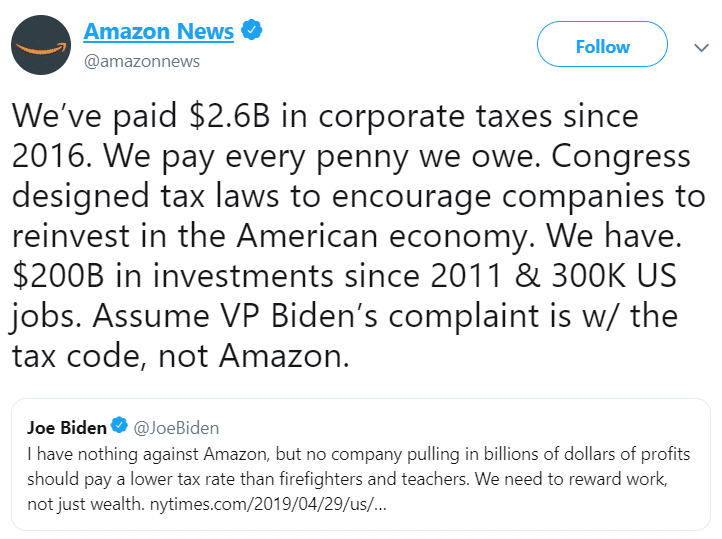 We've paid $2.6B in corporate taxes since 2016. We pay every penny we owe. Congress designed tax laws to encourage companies to reinvest in the American economy. We have. $200B in investments since 2011 & 300K US jobs. Assume VP Biden's complaint is w/ the tax code, not Amazon.
BOOM! Amazon just took Biden to school. They revealed they have been paying billions in taxes. In fact, they asserted that they paid every penny they owed.
Amazon went on to reveal that the tax code is designed to encourage businesses to reinvest into the U.S. economy—instead of bleeding them dry through over taxation.
Biden was humiliated when Amazon revealed they've pumped $200 BILLION into the economy through investments. Not to mention created 300,000 jobs in America.
Uh… so what was Biden so mad about? He and many other 2020 candidates try to make big companies look like bad guys.
But Amazon provides quality service to millions of people, employs hundreds of thousands of Americans, and gives back through huge investments.
What does the federal government do? Oh, right, they tax companies, spend trillions on wasteful projects, and neglect important needs like the border and infrastructure.
Hey, maybe Amazon should be running the government instead of clowns like Biden!
SHARE if you think Biden and his Democrat buddies would drive America's economy back into the ground.
Source: Twitter