Joe Biden Gets Threat From 100 Black Leaders – If He Doesn't Pick A Black Woman For VP, He Will Lose
What's Happening:
Joe Biden continues to get himself into trouble with what he says online.
The Democratic Party has appeared to be flailing. Some even tell him to stay out of the spotlight.
It seems they got him to say he will pick a black woman as his running mate. Yet he stalled for months in making his choice.
Some influential black people are getting impatient. So, they've given him an ultimatum:
A group of more than 100 prominent black men from the entertainment, sports and legal worlds published an open letter to the former vice president on Monday with a simple message:

He can choose a black woman to fill out the Democratic presidential ticket, or he can lose the election.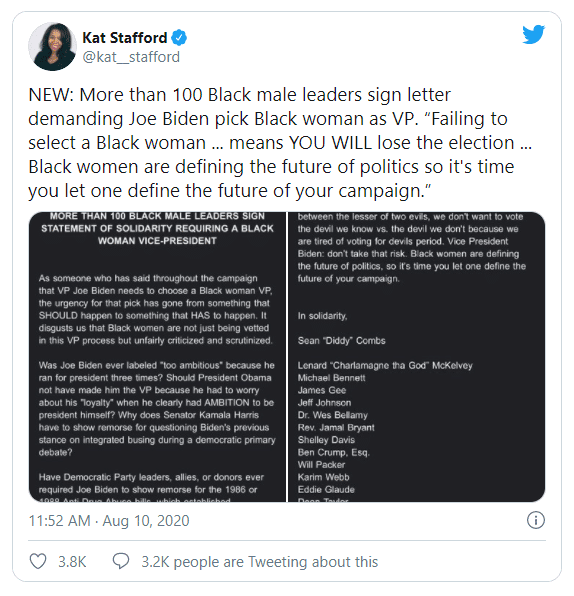 More than 100 black celebrity men have written a letter to Joe Biden, demanding his pick a black woman as his running mate.
Because nothing says "diversity" and "women's rights" than forcing him to pick someone based on their race and gender.
Joe Biden has gotten himself into trouble over the years—and more recently—with his bizarre comments about black people.
Many black Trump supporters have made comments by Joe go viral, by pointing out what he's said about them.
Joe Biden said black Trump supporters "ain't black." He's claimed black Americans are less "diverse" in their attitudes than Hispanic Americans.
It's all adding up. And it seems black voters aren't too interested in voting for him, come November.
Perhaps these black men think a black woman running mate might save Joe's campaign?
Odd how these men think they need to speak up for women—suggesting they can't speak up for themselves.
Isn't that a little sexist, guys? Should Biden pick the candidate that is most qualified, regardless of race or gender?
According to the campaign, they are still considering people like Gretchen Whitmer, Elizabeth Warren, and Tammy Duckworth. None of them are black.
But this choice might decide his fate, as many Americans don't think he would even make it through one term.
UPDATE:
Joe Biden has chosen Kamala Harris to be his running mate. She is half Indian, half Jamaican. Is this black enough for the Black community? Is she acceptable even though she is not African-American? We will see.
Key Takeaways:
A group of 100 black celebrity men told Joe Biden to pick a black woman as his running mate.
Joe Biden continues to delay his choice, saying it will come soon.
His campaign hasn't ruled out several choices, including white women.
Source: Western Journal