After Bernie Sanders Dares To Defend China – Ted Cruz Gives Him A Texas-Sized Takedown
Bernie got burned by the Cruz – he may not recover!
You may have read about Bernie Sanders' praise of Communist China. He claimed that China has done more to help its people than any other country in history.
Um… what? Isn't this guy running for President of the United States? Yet he's praising a communist dictatorship?
Hey, Bernie! If you're trying to position yourself as a "Democratic" socialist, it's not a good idea to praise a shockingly un-democratic socialist nation.
More than a few Americans were shocked by Bernie's statement. And that includes Texas lion, Sen. Ted Cruz.
The conservative laid into Bernie with a truly devastating tweet.
From Twitter: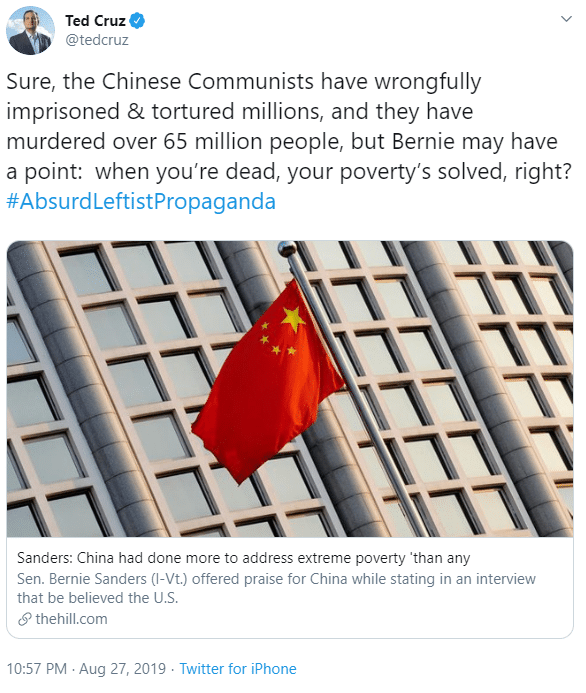 "When you're dead, your poverty's solved, right?"
Woah. Ted Cruz is one of the few Republicans that have debated Bernie and even tried to build bridges with Democrats.
Yet he couldn't sit by and let Bernie's ridiculous praise of China go uncommented.
He totally destroys Bernie's entire assertion with just a few words. "When you're dead, your poverty's solved, right?" Brilliant.
The fact remains that Communist China has a long, bloody history. Millions have died in the name of socialism (Communism is pretty much socialism, if you haven't figured that out by now).
Today, the Chinese government goes after believers in God, burning churches and arresting Christians.
Citizens of Hong Kong—a once independent, prosperous society—are being oppressed by China-controlled police. They are being oppressed for just standing up for their human rights.
But no, Bernie's right. China has done more to help their people than anyone. That includes the United States, it seems, which has fought for generations to secure prosperity and equality for its people.
What is Bernie thinking? Maybe he should just go to China and run there. See how successful he'll be.
SHARE if you agree with Cruz's rebuke to Bernie Sanders!
Source: Daily Wire