After Combat Army Vet Loses Both Legs, A Generous Charity Changes His Life With A Staggering Gift
It's an ENORMOUS gift, but this hero deserves it!
When U.S. Army Sgt. Stefan LeRoy lost both his legs in combat, life suddenly got very challenging.
LeRoy was just 21 years old when he suffered the injury while on assignment in Afghanistan in 2012.
And it really was a heroic situation, like those you see  in the movies:
LeRoy was carrying a wounded comrade toward a helicopter when an explosive device detonated nearby.
He lost both his legs in the explosion and at that moment, everything changed.
But LeRoy was a soldier, a fighter. He wasn't about to lie down and quit!
So, he started playing adaptive sports; he ultimately ran FOUR Boston Marathons, hand-cycled two more, and participated in the Invictus Games.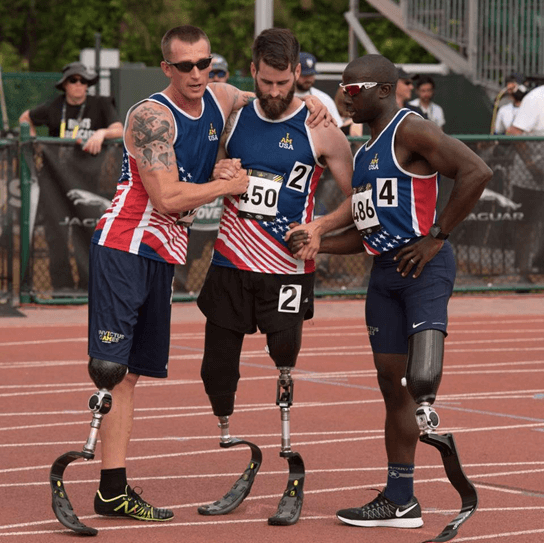 And now, The Gary Sinise Foundation has decided this hero needs to be recognized:
LeRoy has found it difficult to move comfortably around his small apartment in Jupiter, Florida. It's just not cut out for a wheelchair.
That's why The Foundation has decided to step in (via Liftable):
"The Gary Sinise Foundation has selected LeRoy and his family as recipients of a customized smart home…

…which will boast specialized technology and lots of space to help the veteran live a higher quality of life."
How perfect!
The LeRoy family will soon move into a three-bedroom house currently being built in Abacoa, which isn't far from their current home.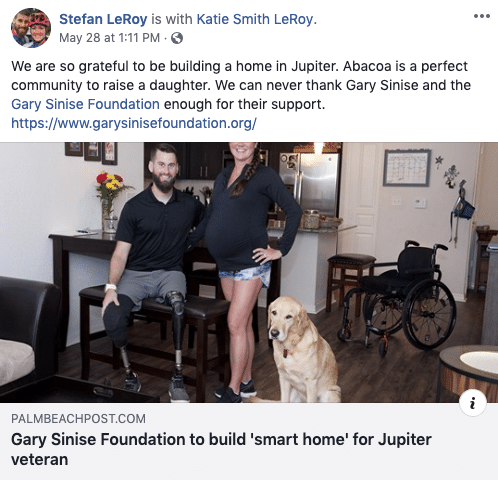 The new place will boast hallways wide enough for a wheelchair, a transfer bench in the shower, and other helpful bonuses.
It's a great place to raise a family, too.
"I can be myself inside the home and when I go outside I'll adapt to the rest of the world," LeRoy said.
The accessibility of the new house will also allow LeRoy to be more of a hands-on parent, which is extremely important to the young father.
This is what bravery and dedication looks like. This is what heroes do.
And as he told MassLive in an April interview concerning his latest Boston Marathon:
"My job, my service wasn't really over just because I'm injured.

I could continue to serve others by showing them, and inspiring them, and encouraging them."
Well said.
And it's fantastic that we have organizations like The Gary Sinise Foundation, which will continue to help and respect those who bravely serve America.
This is exactly the sort of feel-good story that makes your day, doesn't it? 😉
Source: Liftable