Arlington Guard Fights Through Heavy Thunderstorm – All To Perform A Heartwarming Act
It's one of the most incredible gestures you'll EVER see!
This past weekend, millions of Americans celebrated Memorial Day—a day to honor the men and women who fight to protect us.
But one patriotic American went the distance to honor those who have fallen to save our freedoms.
And it's one of the most beautiful things you'll ever see!
An Arlington Guard was tasked with protecting his post and paying homage to the fallen … but a heavy rainstorm was passing through.
Perhaps he could've sought shelter and waited for the storm to pass.
But no, not this dedicated soldier: he strode through the thunderstorm to perform one HUGELY patriotic gesture.
Soldier faces severe weather conditions before planting a flag honoring the fallen at the Tomb of the Unknown Soldier in Arlington, Virginia. https://t.co/BrOq5858ox pic.twitter.com/IGKTd5oFim

— ABC News (@ABC) May 27, 2019
"A Tomb of the Unknown Soldier guard planted a flag during a severe storm to honor those who have made the ultimate sacrifice for their country…

According to a Facebook post by the 3rd U.S. Infantry Regiment, the guard walked through pouring rain and thunder to honor fallen heroes."
This guard walked through the storm, not missing a beat, to honor the Tomb of the Unknown Soldier.
He wouldn't let the rain, wind, and thunder stop him from doing his duty–and respecting the men and women who have died for this country.
America is great, because of the sacrifice of many.
Our most patriotic and brave citizens gave their lives, in some cases far away from home, so we can be free.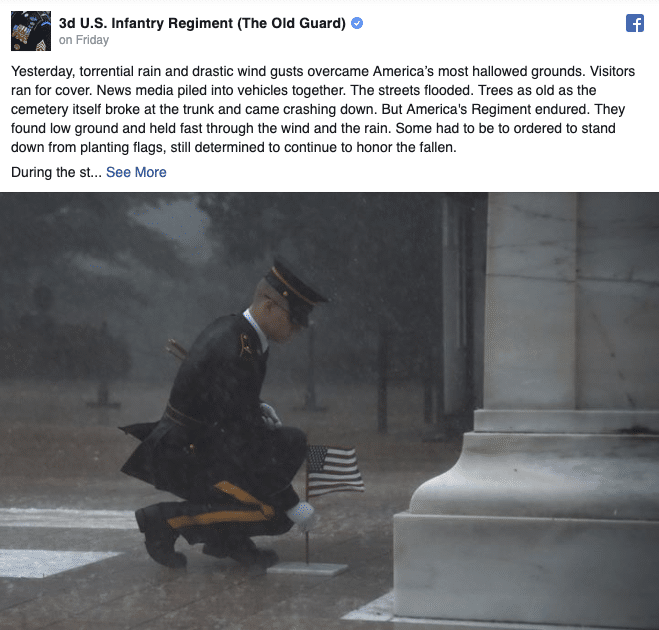 All Americans, liberal or conservative, owe a debt of gratitude to these heroes. Without them, we wouldn't be able to live in such a free, prosperous country.
This soldier knew that very well. And he wasn't going to let terrible weather get in the way of doing his duty!
This is a reminder to all of us. We can never forget the men and women who died for us.
It's easy for us, in the hustle and bustle of daily life, to do just that.
But let this simple, brave moment, encourage you to take some time and remember all the heroes who kept America… America.
And we can't EVER forget that!
SHARE to say thanks to every patriot who died for this country!
Source: IJR