After AOC Calls For A Jobs Boycott, Candace Owens Lashes Out Hard: "You're An Intellectual Coward"
Freshman Rep. Alexandria Ocasio-Cortez has been talking a lot lately.
She often criticizes President Donald Trump's response to the current coronavirus epidemic. And she continues to push her socialist ideology.
Recently, she suggested Americans should boycott their jobs when the economy reopens.
…and that didn't go over well with Conservative personality Candace Owens.
The two women are at opposite ends of the political spectrum.
And that difference was on vivid display when Owens stepped into the middle of a Twitter argument between AOC and former White House press secretary Sarah Sanders.
Specifically, Owens went after AOC for claiming that Trump "has no plan to get people safely back to work":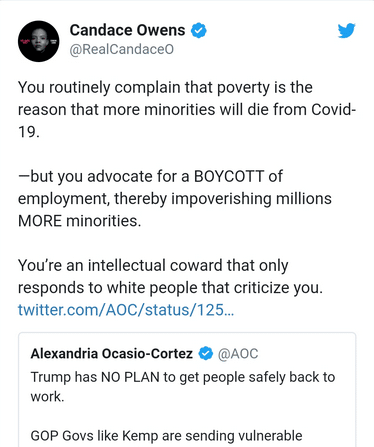 You routinely complain that poverty is the reason that more minorities will die from Covid-19.

But you advocate for a BOYCOTT of employment, thereby impoverishing millions MORE minorities.

You're an intellectual coward that only responds to white people that criticize you.
Strong words!
But Owens, who rarely pulls any punches in the political arena, went even a step further:
You're a racist, radical communist that wants to expand government control and dependency— and you are using the plight of minorities to fulfill your sick and twisted goals.
WOW.
Candace absolutely threw down the gauntlet! And honestly, I think a lot of Americans agree with her.
Right now, the entire country is trying to cope with a major crisis, and we all hope the healing stage is near.
It doesn't help to have people like AOC throwing gasoline on the flames of doubt and fear.
Owens is just saying what so many of us feel, right?
SHARE if you LOVE Candace Owens' fiery response to AOC!
Source: Washington Examiner