After Trump Gets Censored in Court – Donald Posts 1 Piece of Eye-Opening Proof
What's Happening:
Former President Donald Trump is currently battling numerous lawsuits. As he aims to return to the White House, he must overcome several significant challenges.
That includes criminal charges as well as a civil case out of New York. Democrats have sued Trump's business, claiming he inflated the value of his assets to get loans from banks.
The case has been rife with controversy, including the fact that a loan judge will decide Trump's fate. The former president wanted to submit a document that could have changed the entire case. He was denied, so he is taking it to the public.
From Breitbart:
Former President Donald Trump took to social media on Tuesday evening and shared the document he wanted to read in court on Monday but was not allowed to by Justice Arthur Engoron.

The document was a disclaimer clause he had referred to repeatedly throughout the civil case, where New York Attorney General Letitia James accused the former president of inflating his assets to get favorable bank loans.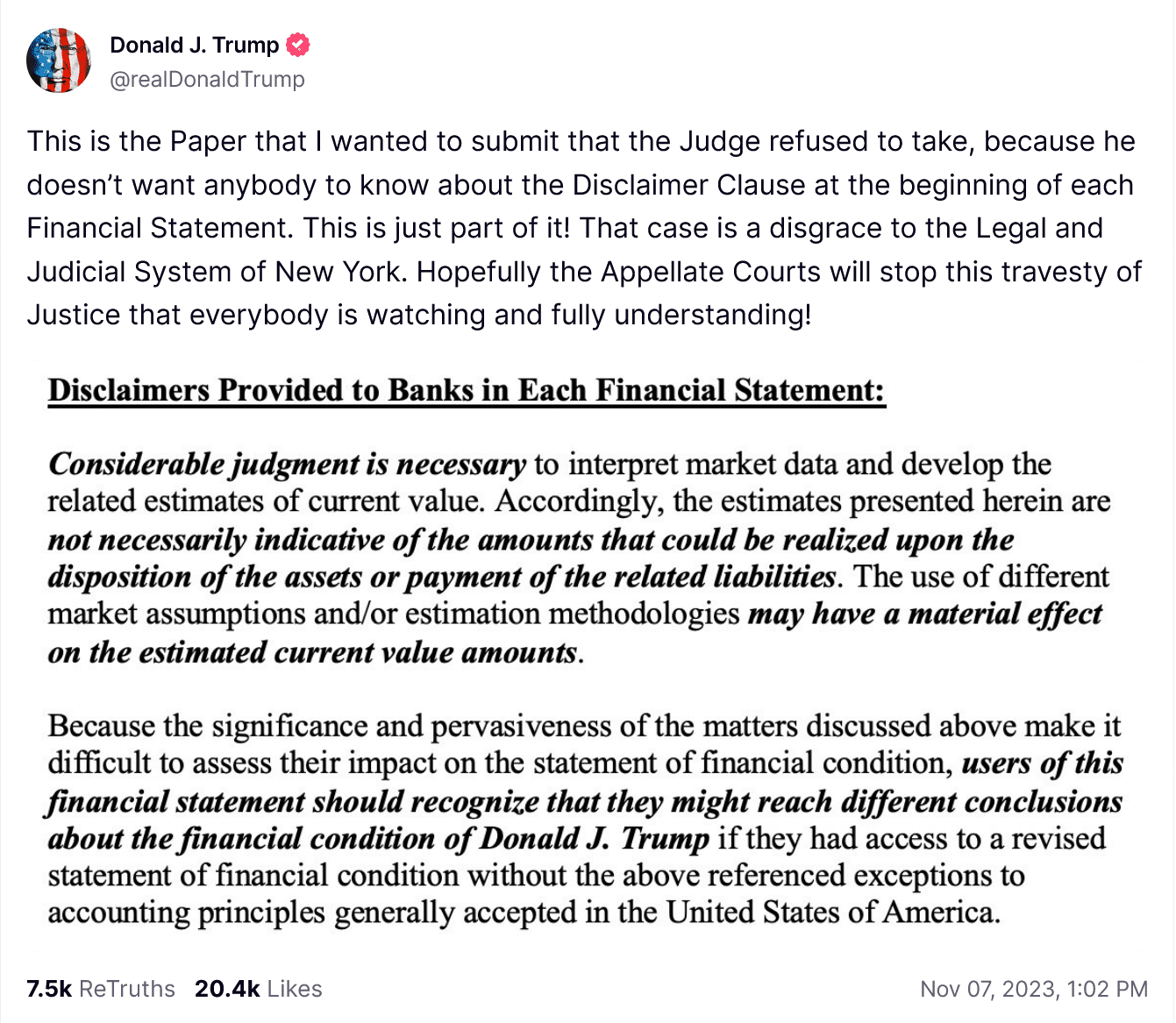 Donald Trump requested to read a disclaimer he provided to banks whenever he engaged in business with them. He literally had the document with him in court. Yet the liberal judge presiding over the case denied him the chance.
Trump then posted the disclaimer to his social network. The disclaimer clearly stated that all the values presented in his deals were "not necessarily indicative" of the amounts that could be "realized."
Meaning, that his contracts with banks clearly stated that the values of his properties were an estimate. And the banks knew that the values might be different, based on market data and constantly changing conditions.
Trump was not allowed to read this document in court. It is possible the judge and prosecution refused to hear it since it could shatter their entire case against him. He has been accused of lying about his properties, to get loans from banks.
But this document proves the banks knew the estimates might not be accurate, given many factors. That makes this entire case moot.
Yet the judge has appeared to openly refuse Trump's right to testify. He has shown hostility toward him and his lawyers. It does not appear that the former president will receive a fair trial under this judge.
He has suggested that the Appellate Courts will step in and end this "travesty of justice."
Key Takeaways:
Trump posted a disclaimer he used while doing business with banks.
The disclaimer reveals that the value estimations of his properties might not be accurate, given market factors.
Democrats have sued Trump, accusing him of inflating the value of his assets.
The liberal judge presiding over the case refused to let Trump read this document.
Source: Breitbart