WATCH: Little Girl Gives Cop An Unexpected Present – When He Sees It, He Can't Help Crying
This adorable 7-year-old gave him a gift he'll never forget – WOW!
When Charlotte-Mecklenburg police officer James Wolfe stopped to get gas one morning, he had no idea what he was about to happen.
Of course, cops always have to be alert and vigilant.
But in this case, it wasn't a crime Officer Wolfe faced at the gas station … it was an adorable 7-year-old girl named Lily.
Her mother, Nicole Morrison, spotted Wolfe and approached him, asking if he'd be willing to meet Lily.
Wolfe couldn't refuse and when he approached the little girl, she suddenly placed something in his hand…
At first, the officer wasn't sure what it was.
It appeared to be a small rock with a blue line painted on it. Was it just a little good luck trinket, or something?
No, it was much, much more than that.
See, Lily's mother explained that she and her daughter painted "kindness rocks," and Lily knew Wolfe could use one.
This was a special kindness rock designed specifically for the police:
It said "We've got your 6" in white letters on the reverse side.
If you didn't already know, this basically means "we've got your back" in cop lingo, and it was the perfect gift for Officer Wolfe.
After the UNCC shooting, as well as the passing of Mooresville officer Jordan Sheldon, Lily and her mom knew Wolfe could use a pick-me-up.
And boy, did he ever!
Wolfe's wife, Genie, posted on Facebook: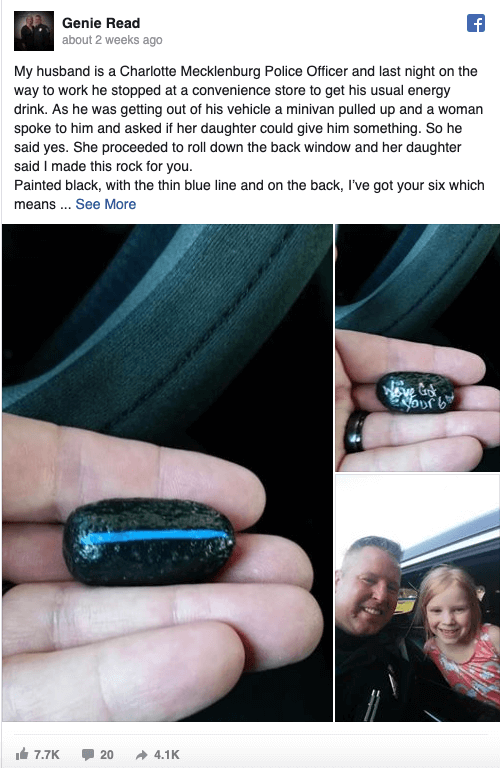 "As my husband was looking at it he told me he had to hold back the tears and he was so grateful for what this little girl had done.

It made him feel good and appreciated just from this little girl and her rock."
Genie added that the rock "touched his heart in so many ways."
And his wasn't the only heart the gift touched, because Lily's amazingly beautiful gesture quickly went viral!
This is exactly the sort of attitude ALL youngsters should have regarding our brave police officers.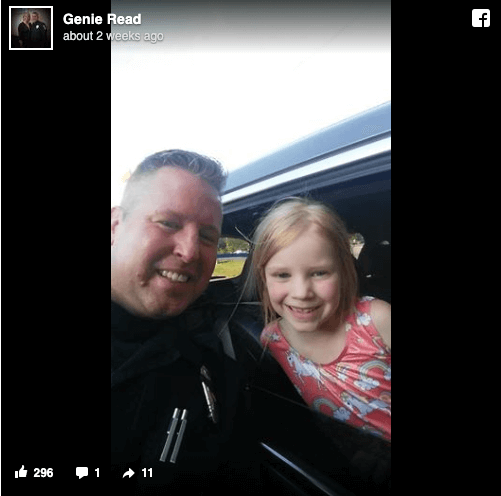 These everyday heroes put their lives on the line to protect us, and they don't even think twice about it.
The least we can do is show them a little appreciation, right?
Lily and her mom understood this, and they showed that appreciation in the simplest, most heartwarming way!
SHARE this wonderfully uplifting story to keep the good vibes going!
Source: Liftable