After Hollywood Actor Threatens Barron, Melania Sprints For The Phone And Calls In Backup
Somebody needs to put a muzzle on Hollywood.
These celebrities have just become completely unhinged, and are beyond disgusting and treasonous in their endless bashing of Donald Trump and the First Family.
Washed-up burnout Peter Fonda is the latest to open is fat, ignorant mouth and say something so horrendous, only twisted liberals would say it's fine.
But it isn't fine.
In fact, what Fonda said about Melania Trump's son, Barron, is so awful, that it actually prompted action from the Office of the First Lady.
From The Daily Caller:
"The Office of the First Lady has notified the Secret Service after actor Peter Fonda called for kidnapping Melania and Donald Trump's son, Barron, The Daily Caller has learned exclusively.
In a tweet sent Wednesday, the actor called for Barron to be 'ripped' from Melania's arms and put in a cage 'with pedophiles.'"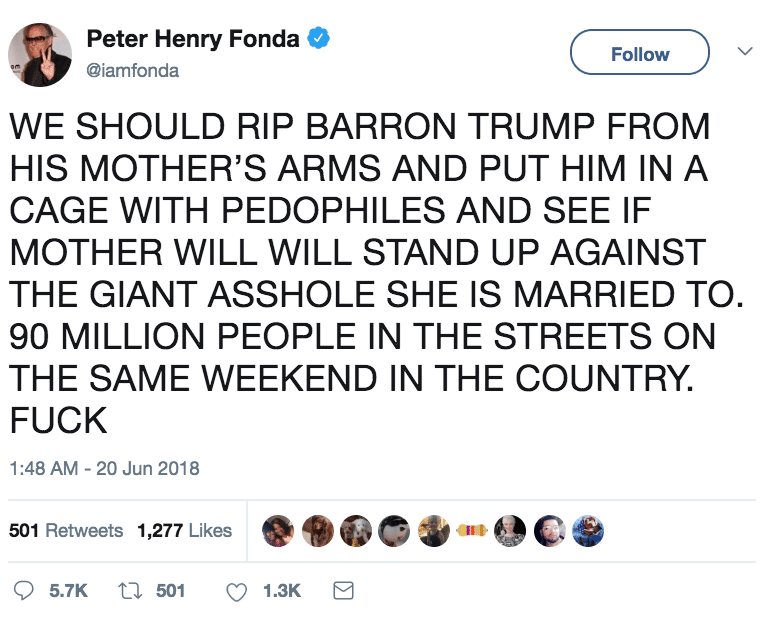 Melania Trump's spokesperson for the First Lady, Stephanie Grisham, says this despicable message is "irresponsible" and definitely over the line.
But it's hardly the first offense.
Fonda, the actor that helped to define the counter-culture (which, sadly, has systematically lowered an entire nation), posted another horrible tweet about Department of Homeland Security Secretary Kristjen Nielsen.
In this vulgar tweet, Fonda said:
"Kristjen Nielsen is a lying gash that should be put in a cage and poked at by passersby.
The gash should be pilloried in Lafayette Square naked and whipped by passersby while being filmed for posterity."
Fonda further proposed that Press Secretary Sarah Sanders should have her three children kidnapped and locked in a basement. And of course, he couldn't say that without profane language, either.
This is vintage liberal, right here.
Act as disgusting and deplorable as possible, scream at the top of your lungs without citing a single verifiable fact, and then hilariously claim you're intellectually superior.
No, you're just sick and twisted, like the rest of your ilk.
Melania, you and your family deserve so much better than this, and we apologize on behalf of a country still filled with hideously behaved adults who act like children.
Source: The Daily Caller