28 Days After Joe Biden's Inauguration – Donald Trump's Approval Rating Continues To Edge Joe
What's Happening:
The mainstream media is working overtime to convince you that Sleepy Joe Biden is a "return to normalcy" and levelheaded leadership. Do you believe them?
(Maybe, if their definition of "normalcy" is bowing to the D.C. swamp.)
In just 28 days, we have seen Democrats destroy unity with a bogus impeachment of Trump. Joe Biden killed off thousands of jobs with executive orders. And his new border policies mean thousands will flood the country.
So, the American people are making it clear who had more success in their first month.
From Rasmussen Reports:
The Rasmussen Reports daily Presidential Tracking Poll, Sponsored by SLANTED from Sharyl Attkisson, for Tuesday shows that 53% of Likely U.S. Voters approve of President Biden's job performance. Forty-four percent (44%) disapprove.
Joe Biden's daily approval is at 53%, two points under Trump's at the same time in his presidency.
And the Wednesday update shows Biden has dropped to 50% while Trump was at 55% on the same day 4 years ago.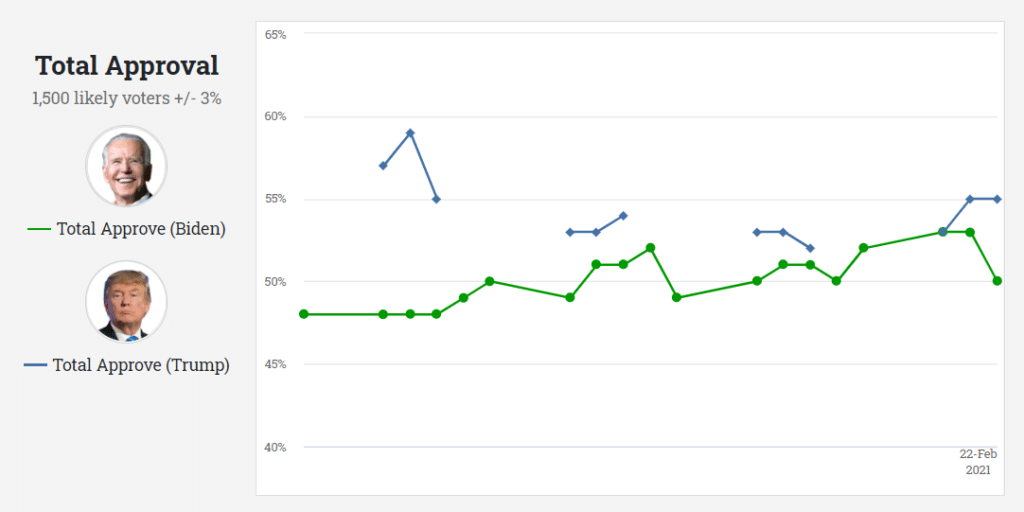 More people strongly disapprove of Biden's performance than approve of it.
This is significant, considering the "hands-off" approach of the media's coverage of Biden. While they pounced on every comment, rumor, or supposed controversy of the Trump administration, they are largely ignoring all the problem's within Biden's.
The media doesn't seem to mind that Biden is virtually MIA. He pops up for a few video appearances, makes some embarrassing gaffes, then disappears.
All we've really seen of him in action is when he signed 40+ orders in his first two weeks. Now we know why he moved so fast; because he didn't plan to do much work after that!
Biden had Harris field a call with the French president. Biden doesn't seem to be doing much presidential announcements or work.
It would be very easy for him to hide behind his staff, who carry out the day-to-day requirements of the administration.
If we ever wondered what an administration would look like on autopilot, here it is.
Some might worry if Biden is even doing anything at all.
We shouldn't be surprised to see Biden's approval continue to waver around 50%, for now. Once his decisions begin to really impact the country in the coming months and years, that number might sink.
Especially when we never see him do those things a president is supposed to do… like lead.
Who do you approve of more – Biden or Trump?
Key Takeaways:
Biden's approval hovers around 50-53%, still beneath Trump's approval at the same time.
Biden is pushing a radical agenda, with policies that are killing U.S. jobs.
Despite the media's praise of the administration, his approval is low.
Source: Rasmussen Reports