New 2020 Democrat Problem Hits The Fan – Unlike Republicans, They're Quickly Running Out of Cash
Democrats are waging an intense war for the 2020 nomination. And it's costing them, bigly.
They spent millions in ads for the Iowa caucus and New Hampshire primary. It didn't pan out too well for most of them.
Those big ad buys have left them in a vulnerable position. They put all their eggs in those baskets, it seems they weren't prepared for March's Super Tuesday.
Hey guys! You did realize there were other states besides those two, right?
Now, most of the Democrats are cash strapped.
From the Wall Street Journal:
Four of the top six Democratic presidential campaigns spent heavily ahead of the Iowa caucuses, and they are now at a major disadvantage on the airwaves heading into next month's crucial Super Tuesday contests…

As February began, Mr. Biden, Mr. Buttigieg, Ms. Klobuchar and Ms. Warren each had less than half as much in the bank as Mr. Sanders did. And none had a war chest close to the $460 million Mr. Bloomberg, the former New York mayor, had put into his campaign by the end of last month.
Ouch. Everyone said Bloomberg could buy the nomination. Perhaps now he won't have to spend as much!
Aside from Bloomberg and Sanders, the rest of the Democrats running are out of cash. They don't have enough to air ads in crucial Super Tuesday states.
Which means they have about as much chance at winning as a snowball's chances in Tahiti.
But how are the Republicans doing? Let's take a look.
From Twitter: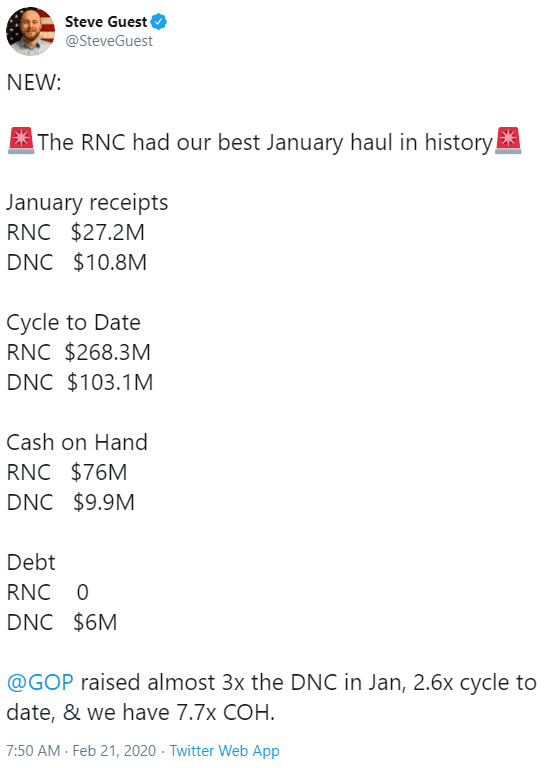 Wow. The GOP has a war chest of cash, after January's historic fundraising efforts. This isn't just good news for Trump, but for the many Republicans eager to retake the House (and countless local elections).
This might mean Bloomberg is the only one left that can rival Sanders, even after his terrible performance at the debate.
All because he has enough money to run ads until Kingdom Come!
Sanders is the only non-billionaire left with the scratch to run ads and a  campaign. Doesn't look good for them, does it?
SHARE to tell everyone how Republicans are beating Democrats in 2020!